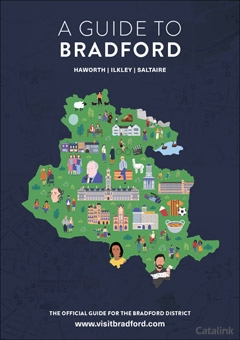 Tweet
Follow VISIT BRADFORD on Twitter
Visit Bradford
- 2 hours ago
This
#ShopLocalWeek
why not take a look at some of the amazing businesses and offers available in
#Bradford.
https://t.co/T2iJi5KQam
Visit Bradford
- 6 hours ago
Fantastic shot - the Mill looks great in the sun with such a clear sky! https://t.co/sN2miYVivm
Visit Bradford
- 6 hours ago
🦁How many lions can you spot across the district this
#WorldLionDay
? To give you a hint, look for them at Saltair https://t.co/G4St3XBKmR
Visit Bradford
- 1 day ago
How many of these will you be heading out to see? https://t.co/Qd3Rxl3d3S
Visit Bradford
- 1 day ago
Get ready for an incredible 2023 season at
@BradfordTheatre
Alhambra with these classic shows. https://t.co/18j698Nkxl
VISIT BRADFORD BROCHURE
To order the Visit Bradford Brochure, simply click the Request button below.
Request Brochure
There is no Place Like Bradford
Bradford is a city full of surprises. The world's first UNESCO City of Film, Bradford is a thriving cultural destination with a packed events calendar, award–winning museums, galleries and impressive theatres.
Wondering what to do in Bradford? Find some of Yorkshire's best attractions and events there including:
The National Science and Media Museum
Impressions Gallery
The Alhambra Theatre
The Ilkley Literature Festival
Head to the Saltaire UNESCO World Heritage Site where you'll find stunning architecture and a thriving village, don't miss the epic Salts Mill, with its Hockney gallery, shops and diner. For more Hockney inspiration, discover the David Hockney Exhibition at Cartwright Hall, offering an unrivalled collection of early work including inspiring sketches, paintings and photographs.
There is also miles and miles of beautiful countryside to explore. Visit Ilkley and walk on Ilkley Moor or see the windswept moors that inspired the Bronte Sisters. You can learn more about their lives at the Bronte Parsonage Museum in Haworth.
Some of the best accommodation in West Yorkshire can be found in Bradford, with city centre hotels, guest houses and self–catering accommodation to suit all budgets.
Order a free copy of the Bradford Visitor Guide or download a digital version to get started today!