VELOSO TOURS - EXPEDITION CRUISING BROCHURE
Expeditions Designed Around You
Veloso Tours provide unrivalled expertise in crafting tailor-made itineraries for UK travellers, with experienced guides you will enjoy authentic experiences and learn all about the culture. Download the Veloso Tours - Expedition Cruising Digital Brochure today!
Travel deep into the remote Amazon rainforest to explore the incredible jungle in the company of a local expert guide. Alternatively, you can experience the best of Rio de Janerio, see all the sights and feel the bustling atmosphere.
The Galapagos Islands offer the opportunity to see nature at its best, admire the wildlife on daily guided walks or feel the thrill of swimming with beautiful sea lions! You can also see the dramatic mountain landscapes of the Andes on the same expedition.
Visit Chile and cruise through Northern Patagonia's fjords and icebergs, this is a true expedition exploring remote forests and fishing villages as well as spotting wildlife. Enjoy the wonderful facilities of your desert lodge, before setting sail on a comfortable cruise ship to experience the remotest reaches of Southern Patagonia.
Download the Veloso Tours - South America and Antartica Digital Brochure today to start your journey here!
SORRY, THIS BROCHURE IS NO LONGER AVAILABLE THROUGH THIS WEBSITE.
The Visual History of Veloso Tours - Expedition Cruising Brochure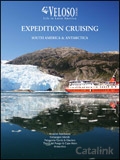 13 April, 2018
13 December, 2004