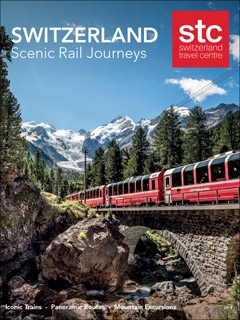 SWITZERLAND TRAVEL CENTRE - SCENIC RAIL JOURNEYS BROCHURE
To order the Switzerland Travel Centre - Scenic Rail Journeys Brochure, simply click the Request button below.
Request Brochure
Switzerland Travel Centre - Scenic Rail Journeys
Switzerland Travel Centre are delighted to introduce the new Scenic Rail Journeys brochure. Their rail specialists are experts at creating memorable railway holidays. Choose from a selection of taster packages and comprehensive iconic train routes on the:
Golden Pass
Glacier Express
Bernina Express
Centovalli Express
Gotthard Paronama Express
The carefully selected routes are all about the scenery and best-loved places in Switzerland. Experience Switzerland have added some brand new breath-taking itineraries allowing you to take in the panoramic views of Switzerland's most iconic Mountains and picturesque villages. Experience the tranquil backdrops over the hills of Switzerland's most charming towns and cities.
Wherever you see this Mountain Top Stay symbol, you can easily extend your holiday to include a unique and memorable overnight(s) on the top of a mountain.