PRINCESS CRUISES 2023/2024 CRUISE COLLECTION BROCHURE
More about Princess Cruises
Come feel the love
Our story began in 1965 with a cruise to Mexico and we now call at over 330 destinations across more than 100 countries on 7 continents. Whether you are new to cruising or have sailed before, you can travel to places you've never visited, try authentic local cuisine, and spend time connecting with friends and family. There is so much to love about a Princess cruise and we can't wait to welcome you aboard one of the 16 stunning ships in our fleet.
Bringing people together
There's something about Princess that brings people together in rich and meaningful ways, giving you the chance to devote time to the things you're passionate about. When you don't have to think about anything, you can fall in love with everything. Let go of everyday life and set a course for adventure as you explore the world around you. Take time to be present and tell us what you love to do and we'll find the perfect trip. We specialise in making you feel cared for and our crew are experts in ensuring you have everything you need, before you have even thought of it. You'll be captivated by your Princess cruise.
All-inclusive Packages
A cruise with Princess is one of the best value holidays around. Choose Princess Standard, our no-frills fare, or opt for an all-inclusive package when you book. Your full board Princess Standard fare includes luxury accommodation, freshly prepared meals 24 hours a day including our 4-course dining rooms and room service, entertainment, and an array of activities.
For complete peace of mind, upgrade to one of our all-inclusive options. With Princess Plus enjoy the Plus Drinks Package including cocktails, beer, wine and speciality coffees, unlimited Wi-Fi with MedallionNet, crew appreciation and more - all from just £50pp per day, (worth over £115pp). Or for all that and more, choose Princess Premier from £65pp per day (worth £210pp).
Princess MedallionClass
Get more from your holiday with a Princess MedallionClass cruise. This personalised and effortless experience is complimentary and is provided for all our guests travelling across our entire fleet. Your Princess Medallion is a wearable device the size of a 10p piece that never needs to be turned on or off. It enables touch-free boarding, you can locate loved ones anywhere on the ship, as well as enhanced services like having whatever you need, delivered. The free MedallionClass App means you can do more of what you love on your holiday.
Order Princess Cruises' 2023/2024 Collection brochure for free today and start planning your next exciting adventure!
SORRY, THIS BROCHURE IS NO LONGER AVAILABLE
Front Cover Images of Princess Cruises 2023/2024 Cruise Collection Brochure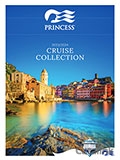 VIEW ARCHIVED BROCHURES