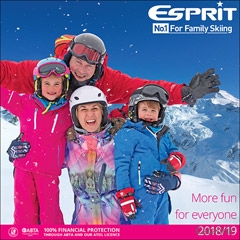 ESPRIT SKI - FAMILY BROCHURE
To order the Esprit Ski - Family Brochure, simply click the Request button below.
Request Brochure
Esprit Ski – No 1 for Family Skiing for over 30 years
They cover every angle for the skiing family, with dedicated Esprit Nurseries for babies and toddlers, exclusive Esprit ski classes for older children, plus fun–filled activity clubs.
Esprit Skii offers catered chalets and Chalet Hotels, all with free wifi, in 13 of the top resorts in the Alps.
Order your Esprit Ski brochure now for the perfect family skiing holiday!