BLUE WATER HOLIDAYS - ESCAPE TO FARAWAY SHORES BROCHURE
Venture further afield and discover exciting destinations including the idyllic Maldives, rural India, and New England in the fall on unique cruises with exclusive special offers - download your FREE brochure today!
Blue Water Holidays' Escape to Faraway Shores brochure features a fantastic selection of cruises to exotic destinations. There are authentic voyages under full sail showcasing the stunning islands scattered off the coast of Thailand, and the beautiful National Parks of Borneo and Malaysia, as well as a small ship cruise to the paradise islands of the Maldives.
In addition, the brochure has exciting river cruises along the Mekong through Vietnam and Cambodia, the mighty Brahmaputra past the ancient temples and traditional tea plantations of the Assam Valley, and the Columbia and Snake Rivers in the Pacific Northwest. Thrilling expedition cruises to the remote Galapagos archipelago and White Continent of Antarctica, home to colonies of penguins and seals, add to this unique brochure.
SORRY, THIS BROCHURE IS NO LONGER AVAILABLE THROUGH THIS WEBSITE.
The Visual History of Blue Water Holidays - Escape to Faraway Shores Brochure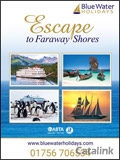 03 April, 2019