AJ AUSTIN HOLIDAYS BROCHURE
AJ Holidays – The affordable way to enjoy your family holiday

With the financial times being as they are one of the last things concerning many families and house holds is their annual holidays.

Yet this is one of the most important times of the year, something you feel you have earned and looking forward to.

They are offering 1 and 2 week packages from only £12.50 per month per apartment, NOT per person. This is a stress free way for you to pay for your holiday over 12 months without noticing the outlay, so you can enjoy your Holiday without a huge cash payout. Their offer also includes collection and return to the airport.

Order your brochure today to find out how you can make your holiday affordable this year!


SORRY, THIS BROCHURE IS NO LONGER AVAILABLE THROUGH THIS WEBSITE.
The Visual History of AJ Austin Holidays Brochure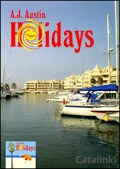 06 October, 2011