To order a printed copy of the Mosaic Holidays Egypt brochure, simply click the Request button below.
Request Printed Brochure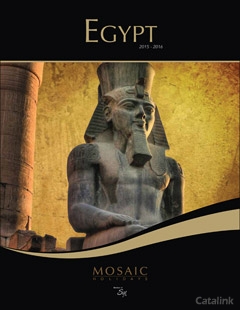 Mosaic Holidays – Luxury Holidays to Egypt
These holidays to Egypt take you beyond luxury, helping you indulge in whatever side of this glorious country you seek most.
Extensive local knowledge and a passion for the little details means their range of luxury holidays are tailored by theme or experience: fancy a lounge in a luxury resort? A breathtaking diving holiday in Sharm el Sheikh? Or perhaps an intimate tour of the Pyramids? Whatever kind of holiday you want from Egypt, this brochure is where to find it.
Ultimate experiences in Egypt
Try diving, snorkelling, windsurfing & other beach activities
Luxury tours & expeditions
Tailor–made travel
3 day trips to longhaul adventures
Family holidays, romantic breaks or group tours
Accredited & protected holidays
View or order the Mosaic Holidays – Egypt brochure now to plan your holiday to Egypt now.