TRANSINDUS HOLIDAYS - SOUTH EAST ASIA BROCHURE
Innovative, life–defining tours to South East Asia & beyond...
This brand new 144 page brochure is the only guide you will ever need to cut to the core of discovering the timeless delight of South East Asia.
Whether to take a Vespa tour in Ho Chi Minh, trek through the mysterious jungle of northern Laos or lose yourself in the metropolitan bustle of Singapore, Transindus guarantee to deliver authentic experiences that delve deeper into local custom and give you insights other operators rarely see.
Unlock a land of mystery with authentic local tours
Travel through Vietnam, Laos, Cambodia, Thailand & further
Each tour includes local experiences to add depth to your trip
Keep active with cycling, trekking & other activities
Customise your South East Asia tour or trust in the experts
Order your TransIndus – South East Asia brochure now for the ultimate guide to South East Asia.
SORRY, THIS BROCHURE IS NO LONGER AVAILABLE THROUGH THIS WEBSITE.
The Visual History of TransIndus Holidays - South East Asia Brochure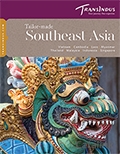 08 November, 2016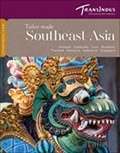 17 August, 2015