To sign up to the Zenith Activity Holidays Newsletter, simply click the Request Newsletter button below and you will receive amazing special offers, discounts and access to secret sales.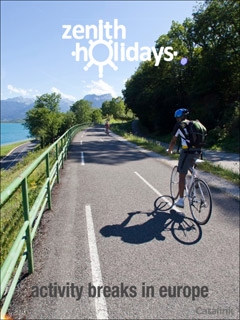 Affordable Activity Holidays in Europe
Perfect for adventurers, families, solo explorers or those who want to discover the outdoors, Zenith Holidays are experts in crafting unforgettable activity holidays throughout Europe. Sign up to the newsletter today to get the latest holiday itineraries and package offers!
Treat the kids to a family cycling holiday along the Danube river and discover wonderful landscapes and picturesque villages or get active in the Alps and enjoy challenging mountain biking.
Take a multi-activity break in Mallorca with a program of activities that will lead you into the Tramuntana Mountains! You'll get the chance to have a go at sea caving in crystal clear lakes in limestone caves and experience adventure trekking in the mountains.
Go surfing in Portugal for unspoilt coastlines and pristine sandy beaches, there's traditional towns to discover and delightful seafood to tuck into whilst you're there!
Sign up to the Zenith Holidays newsletter now for incredible activity holidays!