To order a printed copy of the VJV Tours - India & Beyond brochure, simply click the Request button below.
Request Printed Brochure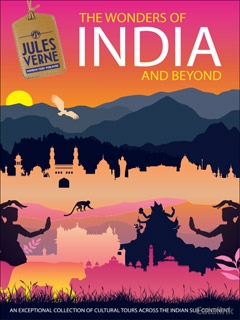 Amazing Tours to India & Beyond
Discover the food, the culture, the wildlife and the magic of India on the only collection of tours you should ever consider.
Jules Verne feature all corners of the Indian Sub-Continent - the landscapes and hill stations of the North, the splendours of the South, the mystical rivers of the East and the secrets of the West - not forgetting the religious heartlands of central India.
With a range that includes quick getaways, immersive trips and life-defining adventures alike, you can choose how, when, where and what you see on these award-winning tours.
Choose your trip by budget, theme & length
Travel India, Nepal, Bhutan, Sri Lanka & beyond!
Flexible extras & varied accommodation to suit all
First-rate excursions, extras & experiences
Order or download the Jules Verne - India and Beyond brochure now for the ultimate way to discover the secrets and wonders of the Indian Sub-Continent!