To order a printed copy of the VJV River Cruises brochure, simply click the Request button below.
Request Printed Brochure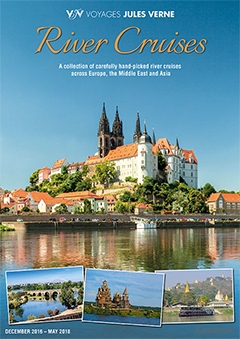 Innovative specialist tour operator, Voyages Jules Verne, is delighted to announce the launch of the latest edition of their popular World of Wonders brochure.
Tempting itineraries along over 20 rivers worldwide with up to 20 departures per cruise combine to form one of the largest and most varied river cruise programmes available.
For 2017, we have introduced new cruises on the Loire, Danube and Guadalquivir rivers. Our cruises include sightseeing and meals on board with many also including drinks and free WiFi.
In contrast to larger and more formal ocean liners, river cruisers rarely accommodate more than 150 guests - many significantly fewer. Indeed, we delight in finding smaller vessels, often with shallower drafts, enabling you to explore further than on the larger ships.
Download or request the Voyages Jules Verne - River Cruises brochure for the full range today.