VISIT GREATER YARMOUTH BROCHURE
Seaside holidays & great days out
Welcome to Great Yarmouth! 15 miles of golden sandy beaches stretching as far as the eye can see, more than 60 fun local tourist attractions to visit and miles of beautiful countryside and Norfolk Broads just waiting to be explored.
Who doesn't love a day out, last-minute holiday or short break beside the sea, exploring coast and countryside or messing about on the river? Greater Yarmouth's unique location means you can fit all this in to your getaway, whatever the weather or time of year and whatever you want to do with your time off.
Discover one of the UK's premiere beach resorts
11 different beaches to discover as well as the fun-packed Golden Mile
More than 60 fun local tourist attractions to visit
Soak up coastal heritage featuring Roman ruins, medieval churches and town wall
Explore Norfolk's beautiful countryside with unique waterways, windmills and Broads
Enjoy amazing events including the NEW air show, Maritime Festival and Out There Festival
How to get there, where to stay & fantastic things to do - all in the 2018 guide!
Order the 2018 Visit Greater Yarmouth brochure today for inspiration on an unforgettable UK visit.
SORRY, THIS BROCHURE IS NO LONGER AVAILABLE THROUGH THIS WEBSITE.
The Visual History of Visit Greater Yarmouth Brochure

04 December, 2017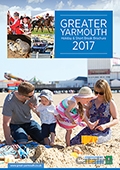 05 December, 2016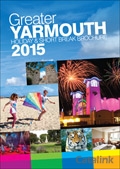 02 December, 2014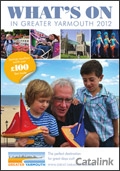 02 May, 2012