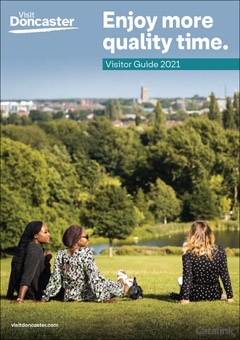 Tweet
Follow VISIT DONCASTER DIGITAL GUIDE on Twitter
Visit Doncaster
- 3 hours ago
Don't forget to join
@YWTPottericCarr
for their Wild Winter Wonderland as you explore an enchanted willow sculpture https://t.co/jeAm0moHJ8
Visit Doncaster
- 5 hours ago
The Business Showcase is back! 3rd February at the
@DoncasterRaces
, 10am-4pm. Admission is FREE. There'll be hund https://t.co/EagA712xDI
Visit Doncaster
- 1 day ago
RT
@BusinessinDN
: Take a look at this incredible image taken by a member of our team on their recent holiday! Can you tell which one of Do
Visit Doncaster
- 1 day ago
Beer lovers, you will be pleased to hear that
@HallcrossThe
Beer Festival is back for 2022! Save the date! P.S. d https://t.co/g3naR2LAuy
Visit Doncaster
- 1 day ago
Looking for things to do in Doncaster? Why not check our website as it gives you an A-Z of things to do in Doncast https://t.co/hd7mhGKT1n
VISIT DONCASTER DIGITAL GUIDE
www.visitdoncaster.com
To download the Visit Doncaster Brochure, simply click the Request button below.
Short Breaks in Doncaster
We are delighted to welcome you back to Doncaster with a range of brand new visitor attractions.
The eagerly awaited Danum Gallery, Library and Museum and Savoy Cinema both opened their doors in May 2021 and a Miners Statue located in the heart of town has also been un-veiled. A fantastic expansion to Yorkshire Wildlife Park sees a range of new facilities and animal reserves for everyone to enjoy.
Whether you want to experience our rich history and culture, a quality family day out, Doncaster's extensive international cuisine or maybe you want to get in touch with nature and explore our green spaces, whatever it maybe, this guide has it all.
Doncaster has a lot to be proud of and it is all waiting for you!
Download your free copy of the Visit Doncaster guide today to start planning your next staycation!