VISIT CANTERBURY BROCHURE
Experience Canterbury's history and heritage, see their stunning architecture and world famous buildings. Enjoy a day out in Canterbury and visit the magnificent Canterbury Cathedral, have a relaxing short break or longer fun–filled family holiday at the seaside in Herne Bay or Whitstable. Canterbury has the perfect blend of city, coast and countryside, ensuring that however varied your interests are you will be spoilt for choice. You will fall in love with their invigorating coastline, their soothing countryside and their breathtaking heritage and culture. After all, Canterbury is simply inspirational.
Thinking about what to do in Canterbury? The Canterbury district offers you so much to see and do during your stay with a huge variety of attractions and indoor and outdoor activities to suit all tastes and interests.
Wondering what to see in Canterbury? With a cathedral city at it's heart, Canterbury's surrounding countryside dips and sweeps through river valleys, woods and hills to the seaside towns of Herne Bay and Whitstable.
Visit Canterbury and you will be tempted to stay for a while and take your time to explore their glorious countryside, dig deep into their history and heritage, go shopping, relax and soak up the atmosphere, enjoy some seaside fun, bask on their beaches or bathe in waters that lap more than 80 miles of coastline.
SORRY, THIS BROCHURE IS NO LONGER AVAILABLE THROUGH THIS WEBSITE.
The Visual History of Visit Canterbury Brochure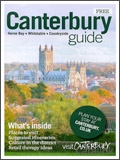 01 November, 2018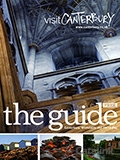 27 January, 2017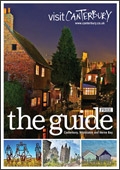 14 March, 2016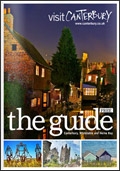 11 March, 2016