To order a printed copy of the Tucan Travel Worldwide brochure, simply click the Request button below.
Request Printed Brochure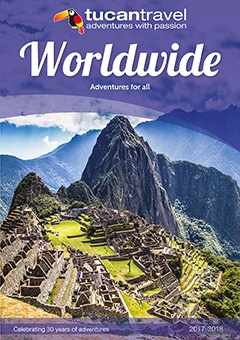 Our new brochures are about to be released and have all the latest information including new tours and destinations.
Passionate about adventure travel since 1987, Tucan Travel offers 450+ exciting and affordable escorted group tours, plus a range of independent travel packages and Expedition Cruises to destinations worldwide, including Europe, the Middle East & North Africa, Asia & Russia, East & Southern Africa, Latin America & Antarctica.
With six distinct travel styles offering varying levels of comfort, there's a tour to suit people of all ages, cultures and fitness levels. Take the adventure of a lifetime with Tucan Travel today.
Order the 2017 Tucan Travel Worldwide brochure today for the full range of trips and the latest holiday discounts.