To order a printed copy of the Sundowers Overland - Trans Siberian Railway brochure, simply click the Request button below.
Request Printed Brochure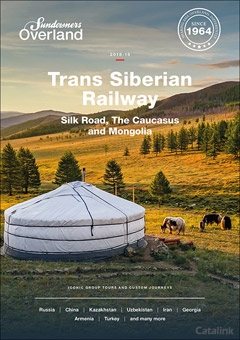 The most incredible Trans Siberian Rail Adventure!
Sundowers Overland - Trans Siberian Railway brings you the most incredible Trans Siberian and Silk Road experiences around. Order or download their brochure today to explore their amazing holidays!
Whether you want an action-packed adventure holiday or an in-depth discovery experience, something a little more leisurely or perhaps world-class luxury, the experts at Sundowners Overland have a Travelstyle perfect for you.
From golden empires to whispering wilderness, walk in he audacious footsteps of early explorers, along incredible ancient trails of trade and conquest. Choose from over 20 carefully crafted small group journeys or design your own personal experience with Sundowners Overland.
Travel the Trans Siberian and Mongolian Railways and visit China, Mongolia, Japan and Russia or conquer the Silk Roads and explore the lands of Iran, Oman, Turkey and Kazakhstan.
Whatever you're looking for, you can find the perfect holiday, the ideal adventure or the most mesmerising getaway with Sundowners Overland.
Order or download your free Sundowners Overland - Trans Siberian Railway brochure today and start planning an experience you'll remember for years to come!