To order a printed copy of the Ramblers Cruise and Walk Holidays brochure, simply click the Request button below.
Request Printed Brochure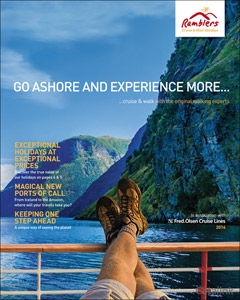 Ramblers Cruise and Walk – From ship to shore, experience more



As one of their most popular programmes, new itineraries have been added to their range of walking holidays from cruise ships. The popular cruises to Norway, the Canaries and the Baltic are still there, with further destinations to the Mediterranean and the Black Sea. They'll be circling the British Isles, sailing through the Norwegian fjords, calling in at Iceland, exploring some Baltic cities, the Mediterranean, Iberian coastline, the Canaries and more...

Their imaginative itineraries have been carefully crafted to give you time to stop and enjoy the view, savour the best food, and immerse yourself in history and culture along the way.

The brochure includes exciting new holidays which include far–flung adventures such as Java and South China Seas. Favourites such as cruises to the Norwegian Fjords and the Canary Islands have been given new touches and flourishes for you to enjoy.

They're continuing their fly–cruises to the Canaries with fewer sea days, so there's more time to explore the islands. Further afield, they explore the warm waters of Cape Verde and West Africa.

At each port of call they make their own small group sorties from the ship and with their first–rate experienced leaders, they'll ensure you'll see the best of each location on foot!

As usual, almost all of the shore excursion costs are included so you won't have to buy your shore excursions on board.