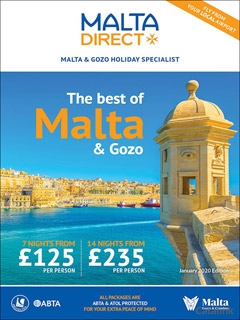 MALTA DIRECT BROCHURE
To order the Malta Direct Brochure, simply click the Request button below.
Request Brochure
This newsletter is temporarily unavailable
The No.1 specialists to Malta, Gozo and Comino
Malta Direct make booking your ideal holiday easy. Their destination knowledge, affordable prices and flexibility has customers come back time after time.
If you're searching for paradise at a sensible price, look no further; Malta and Gozo provide the perfect opportunity to discover the wonders of an island holiday.
And with the range and benefits on offer, Malta Direct have your every need in mind.
Holiday heaven – explore a sun–swept paradise fit for every traveller
All–inclusive – take the hassle out so you can enjoy the best bits
Last minute deals – exclusive offers and regular discounts make your money go further where you need it most
Excursions and extras – cruises, coach tours, diving, golf, spas, fine dining and so much more await...
Book what you need – flights, accommodation or a mixture of both, tailor your booking to your needs
Your money and holiday secure – accredited and experienced mean peace of mind on every trip
Imagine yourself exploring a picturesque coastline by sea; revitalising your senses at a luxury spa by the beach; dining on the freshest cuisine al fresco or exploring the striking ocean floor on a scuba trip.
The good news is Malta Direct's offers and experience make arranging this easy and affordable.
Take the plunge on your next trip away and experience the height of paradise. Order your Malta Direct brochure now to take the first step.