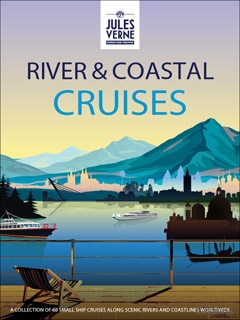 Unique River Cruises Worldwide
Innovative specialist tour operator, Jules Verne, is delighted to announce the launch of the latest edition of their popular River and Coastal Cruises Digital Brochure.
Tempting itineraries along incredible worldwide rivers offer one of the largest and most varied river cruise programmes available.
This selection of small ship cruises offer wonderful experiences for people who love to see the world, expert guides will show you the true character of each destination along the way!
In contrast to larger and more formal ocean liners, river cruisers rarely accommodate more than 150 guests - many significantly fewer. Often with shallower drafts, these cruises enable you to explore further than on larger ships.
See Venice from the water with an enchanting cruise through the incredible lagoon or take a river journey from Paris to the coast of Normandy through the magnificent scenery that inspired Impressionist painters.
Download the Jules Verne - River and Coastal Cruises Digital Brochure for the full range today.