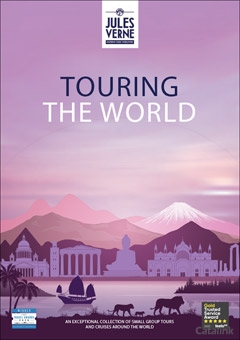 JULES VERNE - TOURING THE WORLD BROCHURE
www.vjv.co.uk/
To order the Jules Verne - Touring the World Brochure, simply click the Request button below.
Request Brochure
Innovative Specialist Worldwide Tours
We delighted to unveil our new brochure Touring the World, showcasing an exceptional collection of small group tours and cruises around the world, with departures throughout both 2021 and 2022.
Travelling in companionable escorted groups, each itinerary has been carefully created to capture the essence of each destination visited, as well as allowing ample time to explore independently or to relax and soak up the sights.
River and coastal cruises are a wonderful way to travel, and we are delighted to present our collection of unique exclusive charters. Cruise on smaller vessels in India, on the Douro, Mekong, Nile and Irrawaddy, as well as in Croatia.
Whether you are searching for a short break or an escorted tour we have a fantastic selection of European tours on offer, just a short flight away. From the magnificent palaces of Spain and Portugal, to exploring the south east or 'heel' of Italy and the fascinating history on the Island of Malta. Or perhaps venture to some of Europe's less discovered countries such as Slovakia, Ukraine and Georgia. Each of which will offer a truly unique experience.
We hope that you too will be inspired by these tours and we look forward to welcoming you in the near future. With travel guidelines constantly in flux, we understand that travellers may be hesitant to commit to a holiday many months in advance, so we are introducing a Flexible Booking Policy for all reservations for tours departing more than two months ahead.
Request the new Touring the World Brochure from Jules Verne today!