IGLU CRUISE ALASKA AND CANADA BROCHURE
Experience the majesty of Alaska up close!
Tick off a true bucket list destination. Very few places in the world are as breathtaking and as captivating as Alaska; the sights and sounds of this incredible destination are a treat for the senses.
It's no surprise that Alaska has become one of the most popular cruise destinations in the world over recent years. What better way to see Alaska than from the viewpoint of a cruise ship, effortlessly gliding through winding fjords, striking glaciers, snow-capped mountains and untouched landscapes. With sailing routes delving deep into the heart of Alaska, you'll get to visit the unspoilt and uncrowded parts of this beautiful icy wilderness.
As you gaze out from the top deck, let the spectacular scenery and wildlife come to you. Look out and you could see humpback whales, orcas, grizzly bears, moose and bald-headed eagles. You'll see the natural wonders from an angle that you just can't replicate from the shore.
We've compiled a huge variety of experiences that Iglu Cruises offer in Alaska and Canada. Whether you want a cruise with a scenic train or coach tour, or just the cruise on its own, we've got every option available to you. And if you don't see it exactly as you imagined inside, call our Alaska experts to create your dream holiday just the way you want it.
SORRY, THIS BROCHURE IS NO LONGER AVAILABLE THROUGH THIS WEBSITE.
The Visual History of Iglu Cruise Alaska and Canada Brochure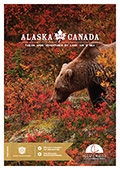 17 October, 2016