To order a printed copy of the HF Holidays Leisure Activities brochure, simply click the Request button below.
Request Printed Brochure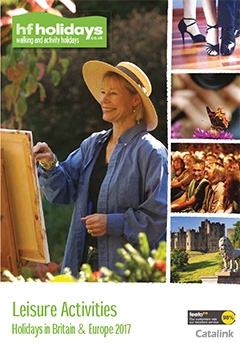 Active. Sociable. Trusted. Co–operative. HF Holidays has been helping people enjoy the great outdoors, inspiring people to explore and discover, to enjoy and relax, for better activities altogether.

Learn to dance like the stars, try your hand at bridge, paint like a professional – whatever you want to do on your holiday there will be an activity that suits you.

Leisure activity holidays in Britain and Europe include:

Dancing, Photography, Natural World, Mind & Body, Art & Crafts, Music Making, Singing, Bridge, Music Appreciation, Literature, Theatre, Festivals, Heritage Tours, Discovery Tours, Gardens, and Cooking holidays.

Each holiday has its own tutor or guide who is expert in his or her subject, and who is chosen as much for their personality as their technical skills. Approachability and friendliness are givens amongst HF Holidays' select panel of leaders.

The atmosphere is relaxed and inclusive, whether you are on your own or not, with sessions generally scheduled in the mornings and late afternoons for indoor based holidays, while outdoor breaks spend all day out and about, returning in good time for dinner.