To order a printed copy of the Experience Switzerland - Scenic Rail Journeys brochure, simply click the Request button below.
Request Printed Brochure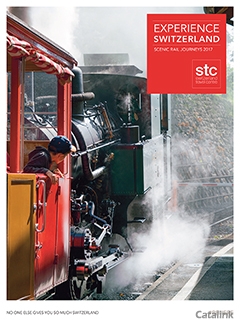 Experience Switzerland - Scenic Rail Journeys
Discover the beauty of the Swiss Alps by rail: Snow-capped mountain peaks, majestic glaciers, rushing waterfalls and breath-taking views over picturesque valleys and deep blue lakes.
Bernina Express, Glacier Express and Golden Pass
Iconic train routes, panoramic carriages and clockwork timing make travelling by train in Switzerland more than just a means of transport but an experience.
Gornergrat and Jungfraujoch
Switzerland is famous for spectacular mountain excursions. The trains and cable cars offer a real adventure; showcasing breath-taking views and transporting you from the bottom of the valley to the top of the mountain into a world of eternal ice and snow. Excursions such as these are included in many of our itineraries or can be added on request.
Tailored to suit you
Prefer to stay longer, add another city or visit a special place? The flexibility of our packages allows you to change journeys and combine offers from across our entire product range to create your own personal programme.
Free upgrade to First Class (on selected 2017 dates and packages)
NOBODY KNOWS SWITZERLAND LIKE WE DO...
Order the Experience Switzerland – Scenic Rail Journeys brochure now for the full Switzerland experience.