EUROPE HOLIDAY BROCHURES
Discover Europe on holidays that take you away from the tourists. See sides to familiar countries you'd never seen before or discover a hidden gem up close. Whether to ski, walk, cycle or sample the cuisine, these holidays give you Europe on a plate.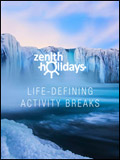 Perfect for snow lovers, Zenith Holidays are experts in crafting unforgettable skiing and snowboarding holidays throughout Europe. Sign up to the newsletter today to get the latest holiday itineraries and package offers!
. . .