To request the Cyprus Paradise - North Cyprus Holidays brochure, simply click the order button below and you will be sent a copy of the latest printed brochure to your address.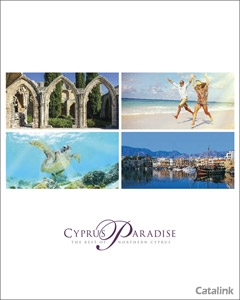 At Cyprus Paradise you will find a team of professionals who have been in the holiday business for over twenty years. Back in 1992, they opened up the tourism market to the Turkish Republic of North Cyprus and during the years that followed they introduced thousands of travellers to the beauty and serenity of the Turkish side of the island.
If you haven't yet been, then there is no better time to visit than this winter. Blessed with the most pleasing climate in the whole of Europe, North Cyprus is a welcome escape from the UK's cold, dreary winter days. Temperatures in November, December and March are often above 22°C. In fact, with over 320 days of sunshine each year, the winters here often resemble a good British summer! And with fewer visitors in winter, there is naturally more time to relax and enjoy the surroundings.
Prices for a 7 night holiday start from just £199 for a 3 star and £299 for a 5 star hotel. All prices include scheduled flights, 20kg luggage allowance, accommodation as shown and in–resort transfers.
With the tranquillity and natural beauty of the Levant, the fascinating medieval ports and castles of Kyrenia and Famagusta, there' something for everyone to enjoy on a North Cyprus Holiday. Whether it's a family holiday or a getaway break for two, the rare blend of delights on offer in North Cyprus is guaranteed to leave you with fond memories of your stay – North Cyprus Holidays begin with Cyprus Paradise!