CADGWITH COVE COTTAGES BROCHURE
Cadgwith Cove Cottages offer cottages in and around one of the last truly unspoiled fishing coves in Cornwall – For a holiday of old–fashioned simplicity surrounded by scenery of breathtaking beauty, look no further.

The Lizard peninsula, the most southerly part of mainland Britain, might have been deliberately designed as an ideal holiday destination. Within just a few square miles it offers sandy beaches, spectacular cliff walks, unspoiled fishing coves, thickly–wooded creeks and inlets, rolling farmland and a wide expanse of open moorland.

It is an Area of Outstanding Natural Beauty and you can easily see why! The climate is mild and frost is rare. Daffodils flower as a commercial crop in January and the cliffs and hedgerows are ablaze with wild flowers from February to June. There are spells in October and November as warm as any in midsummer.

Their small agency started over 10 years ago with just a few cottages in Cadgwith, their home base. Their aim has always been to offer a friendly, personal, local service to all our visitors. They have expanded steadily ever since and now offer cottages all around the peninsula. Visit Britain, the national tourist board, now recognizes them as a Quality Accredited Agency. This means that they are trusted to personally inspect all their cottages every year and make sure they all comply with national standards. They do vary in the degree of luxury they offer, but their descriptions and rental prices reflect this.

If you are looking for a holiday of true old–fashioned simplicity surrounded by scenery of breathtaking beauty, then look no further. Just settle down to the problem of which cottage will suit you best.
SORRY, THIS BROCHURE IS NO LONGER AVAILABLE THROUGH THIS WEBSITE.
The Visual History of Cadgwith Cove Cottages Brochure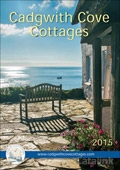 08 December, 2014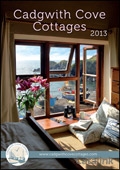 23 January, 2013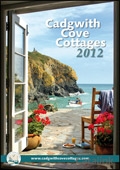 15 December, 2011
14 December, 2011